Colorado Hawks unsigned 6'2 Combo Guard, Jervae Robinson had quite a month in December. Jervae Robinson is the epitome of a student-athlete with a 3.3 GPA and 23 ACT score.
Jervae is a member of the current Colorado State Defending Champion and #7 Nationally Ranked Overland (Aurora, CO) Trailblazers. In December, the undefeated Overland Blazers traveled to Las Vegas, NV to compete in the Tarkanian Classic. Jervae helped the Blazers win the Platinum Division of the Tarkanian Classic Tournament averaging 18.5 points over the four games – 19 points v Long Beach (CA) Poly, 21 points v Ft. Lauderdale (FL) Dillard, 18 v Bingham (UT) and 16 Points v Bishop Gorman (NV). Jervae's output against excellent competition during the tournament earned him the Tarkanian Classic Tournament MVP.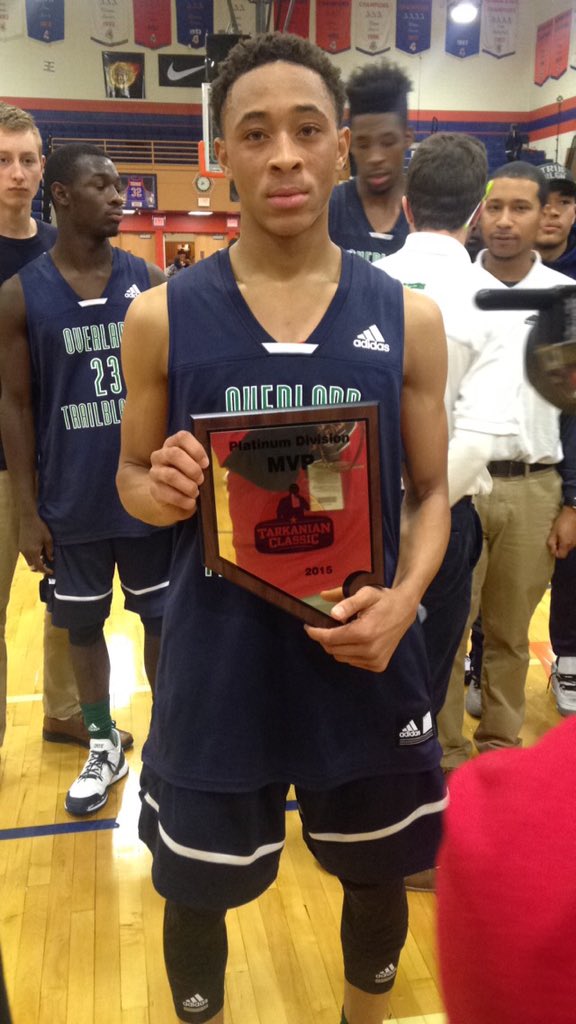 The success Jervae is experiencing is not a coincidence. The unsigned Senior was a staple in the successful summer of the Colorado Hawks 17U team. Jervae helped the 17U team to a 26-10 record with 1 Sweet 16 appearance, 3 Final Four appearances, and 1 Championship game against some extremely talented adidas Gauntlet Series teams across the Nation.
Jervae Robinson has also performed extremely well in the West Coast Elite Showcases based in Denver, CO.
So far in his final high school season, Jervae is averaging 16.7 Points, 3.7 Rebounds, 3.0 Assists, and 2.6 Steals per game for 7-0 Overland HS.
Here are some articles on the recent success that Jervae has experienced.
Colorado Hawks 2016 6'3″ PG Jervay Robinson playing in front of colleges @ Tarkanian Classic https://t.co/NpOntW55tj pic.twitter.com/EK1yLnLseM

— Colorado Hawks (@ColoradoHawks) December 17, 2015
Jervae Robinson carries Overland to #tarkclassic title also takes home #TourneyMVP #D1 #EAT #sleeper #signhim pic.twitter.com/XJ5G5rCpTM

— Colorado Hawks (@ColoradoHawks) December 20, 2015
Frank Burlison All- Tarkanian Classic Choices
Nick Kosmider – Colorado Player of the Week Pool (Dec. 21) :
Jervae Robinson terrific down the stretch and Overland now up 59-53 with 1:18 to go! #TarkClassic

— Frank Burlison (@FrankieBur) December 19, 2015
"Jervae Robinson
The 6-foot-2 Overland senior point guard was dynamic in Las Vegas, drawing rave reviews for his play at the Tarkanian Classic. Robinson, who averaged 18.5 points over four games against top-flight competition, led the Trailblazers to the Platinum Division title while also taking home the tournament's Most Outstanding Player honors."
USA Today Article – Overland (Colo.) makes statement by winning Tarkanian Classic
"The player receiving the most attention after Overland's four-game triumph is point guard Jervae Robinson. The 6-foot-2 floor general exploded onto the national scene, averaging 18.5 points in four games en route to winning tournament Most Valuable Player."
Prep Circuit Article 1
Prep Circuit Article 2 Tark Classic MVP Jervae Robinson leads Overland to title in Las Vegas (Dec. 14-20)
Overland (CO) G Jervae Robinson (@JervaeRobinson1): 21 PTS, 4 AST, 3 REB, 3 STL in a win over Dillard @WeAreOverland https://t.co/Gy1MWzeri4

— Prep Circuit (@PrepCircuit) December 18, 2015
Overland takes the lead with Jervae Robinson back to back to back buckets. Robinson has been playing his ass off. #tarkClassic

— Christian PoP'oola (@PremierBall) December 19, 2015
Grand Canyon, Coastal Carolina, New Mex St & Mercer actively recruiting 6'3 PG Jervae Robinson; Overland (CO) #tark pic.twitter.com/fiehNUGfCm

— Christian PoP'oola (@PremierBall) December 16, 2015
Allmetrohoops.com
"Jervae Robinson 6'3 G Overland CO/Unsigned
Jervae Robinson was one of the top guard prospects throughout the tournament. Robinson put some major production for Overland Colorado on his way to capturing the prep division championship and MVP honors. Robinson plays with great competitiveness and thrives at slashing to the basket,making plays in the open court and arguably the best perimeter defender during this year's event turning defense to offense consistently."